Motivational speaker Byron Pulsifer takes a rather philosophical view on the subject of retirement: "The joy of retirement comes in those everyday pursuits that embrace the joy of life; to experience daily the freedom to invest one's life-long knowledge for the betterment of others; and, to allocate time to pursuits that only received, in years of working, a fleeting moment."
That sounds wonderful, doesn't it? But in the end, it is presumptuous. It assumes we have built sufficient retirement funds to "embrace the joy of life". In reality, this is not always the case.
In contrast, British author Jonathan Clements has a more down to earth, realistic view: "Retirement is like a long vacation in Las Vegas. The goal is to enjoy it the fullest, but not so fully that you run out of money."
Whilst professional financial advisers always have that in mind when advising their clients on retirement issues, there will come a time when they themselves must think about going into their own well-deserved retirement. And that will come around the corner much quicker than we all like to think. Time seems to accelerate the older we get. Hence, financial advisers—especially those who have started later in life—need to be clear-eyed from day one when planning for their future retirement, no matter how far off this may seem. One vital issue here is to keep "building value" for your business. The other is to select the right "exit" strategy.
Building value for your business and retirement
To create maximum value for your retirement, you will need to build a well-diversified client portfolio in terms of client demographics and underlying product solutions. The latter should preferably focus on "sticky" business, such as medium to long term retirement, estate and/or tax planning solutions. That said, without receiving trail commissions, your diversified client book will be virtually worthless. Furthermore, another important factor is how well your client's money is being managed. After all, future trail fees or commissions are usually NAV based.
Private Client Consultancy (PCC) has put a professional and transparent structure for active Network members in place that will enable them to participate in an attractive trail fee/commission system based on professionally managed Model portfolios. PCC is operating three different risk rated model portfolios, including an Absolute Return option. There will be others to follow. So, being able to build true value for your business and eventual retirement is a given with PCC Network.
The PCC Network "exit" scheme
The other important topic of selecting the right exit strategy has been addressed by PCC as well with the introduction of the PCC Network "exit" scheme for members. It delivers a fair and transparent retirement program whilst protecting the spouse/partner and giving flexibility to make future revisions in case circumstances change.
Many advisers, whether they own their own company or are self-employed, will be faced with the choice of "selling off" their client book. Whilst this might seem attractive at first glance, many are negatively surprised by the final valuation of their business. Normally, a sale goes hand in hand with a large discount, usually based on the underlying quality and type of client book and demographics. Apart from being put off by having to accept a deep discount and take a financial hit, there is also a personal aspect to "selling off" your existing client book.
Most professional financial advisers have typically built their client books over many years. Many of their clients have become good acquaintances or even friends, and deep trust has been built. So, the issue is not only negotiating an acceptable price, but also being comfortable in the knowledge that your clients are well looked after.
We live by our values
The PCC retirement scheme provides Network members with an alternative retirement option providing a transparent life-long pension plan for both the adviser and his/her spouse or partner whilst maintaining full flexibility. Furthermore, PCC knows how to look after clients. Existing Network members of PCC know that we define ourselves through an impeccable client service, so you can rest assured that your valued clients will be professionally looked after.
As I said in my recent interview for A&H, we don't just promise this, we "live" it. After all, PCC is an active financial adviser with a reputation to lose—not just an investment platform.
You are still not sure? To put your mind at rest, we are pleased to provide references from our existing Network members.
If that sounds interesting to you, why not speak to us? We will give you the option to join us as a PCC Network member so that you may come under the EU wide PCC regulatory and compliance umbrella while retaining your own identity. And not only that; we will also deliver an impeccable sales support service to relieve you of tedious admin tasks so that you can focus on building value for your future retirement.
Take a first step today. There is nothing to lose, but much to gain!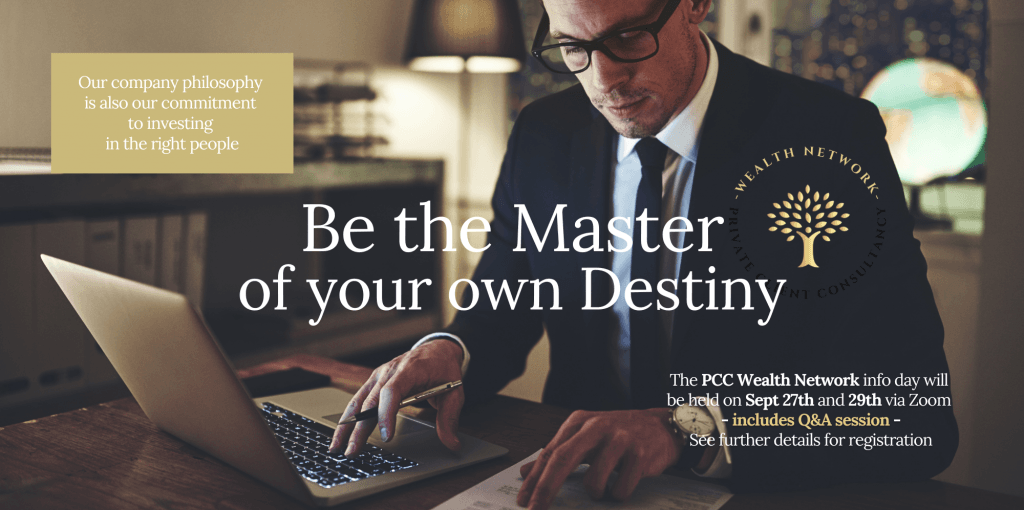 To inquire about becoming a PCC Wealth Network Member, please visit our page for contact details.