How Private Client Consultancy is helping British expats transition into using an EU-based adviser
The Brexit transitional period ended in January of 2021, meaning the legislation is now in full effect. Because of this, the financial industry has had to consider all the new rules and restrictions regarding financial advisory for British nationals in the EU.
One of the major changes that many are now grappling with is that UK advisers can no longer serve clients living in Europe. Therefore, many people have had to drop their British advisers and are now looking for an EU-based adviser who will meet their expectations.
Private Client Consultancy services a broad range of clients, many of whom are expatriates living in Europe. Therefore, we understand the needs of the British expat. This will make the transition that much easier for those who have found themselves in this precarious situation.
As the legal repercussions of Brexit became more apparent, we realised how imperative it was for us to abide by the Markets in Financial Instruments Directive (MiFID) regulation. Once our company was established, we swiftly acquired all the necessary licensing. We are proud to say that Private Client Consultancy is licensed to advise clients throughout the EU. Additionally, while our offices are in Spain and Portugal, we also have network members in France and partners that operate out of Malta.
2022: New Year — New Adviser — New YOU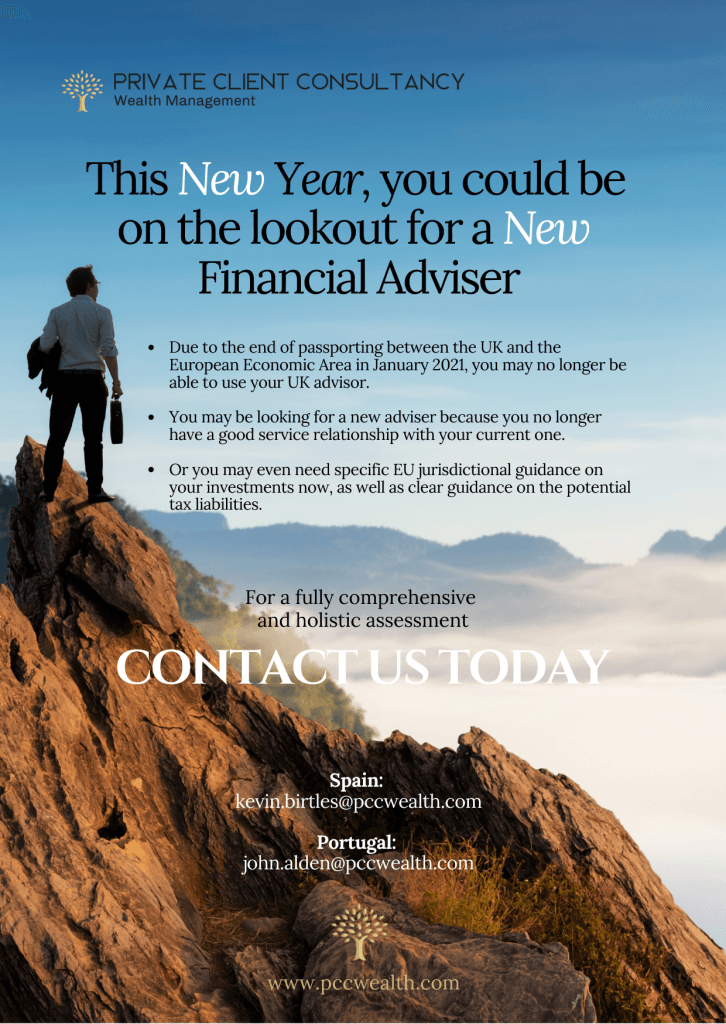 Making the right choices with one's money can be a difficult and often taxing task. Without proper advice, the choices one makes can be detrimental not only to their bank account but also to their wellbeing.
Servicing clients from across the EU is how we will achieve our goal of helping you achieve yours. We have one purpose: helping as many people as we can to acquire financial freedom (and then some).
How Private Client Consultancy can help you:
International retirement planning
Wills & succession planning
International pension transfers
Foreign currency exchange
Inheritance tax planning
Portfolio management
Education and university planning
Investment opportunities (property investing, regular savings, ESG, etc.)
Our financial advice is not only provided by qualified experts, but it is also personalised and tailor-made for you. There is no one-size-fits-all solution when it comes to financial advice. Everyone's financial circumstances are different, which is why we customise plans to our clients' specific needs. PCC provides a first-class service by anticipating your needs and strategically partnering with trusted companies to fulfil them.
Ultimately, our main aim is to provide the people we advise with the financial stability they are looking for. With so much misinformation spreading in certain corners of the internet, many miss out on what licensed, professional counselling can provide. Going at it alone may make you lose out on expert pension, investment, and tax advice that could have saved you large sums of your money.
Therefore, if you are unhappy with your current situation or are looking for a lower cost structure, contact us today. One of our Wealth Managers will devise a plan fit for the vision you have for your future.
We will be with you every step of the way.